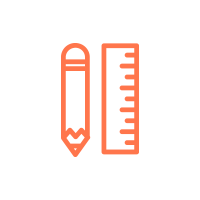 The investement process
For many years, we have been providing comprehensive legal services related to servicing the investment process in compliance with the Construction Law, the Act on Spatial Management, and the Act on Immovable Property Management. The scope of consultancy includes: legal activities relating to the legal status of real estate, analysis of possibilities for the development of a real estate, including transformation of real estate designation, and taking actions related to granting relevant administrative permits, e.g. building permits (or the so-called alternative permit), zoning decisions (the so-called WZ), integrated permits, restoration recommendations, use permits, etc. We have extensive experience in the effective pursuing of clients rights by protection of investments as regards incorrect activities undertaken by local authorities, in particular relating to the study of conditions and directions of spatial development, or local spatial development plans.
A special area of the Law Firm's activity is the support of investments related to housing, renewable and conventional energy, including those in the regime of environmental law. In disputes before common courts, we represent both developers, subcontractors and tenants (buyers of premises). Some of the lawyers of the law office gained experience in working in courts in both civil, commercial and criminal departments.